Single phase safety isolating transformers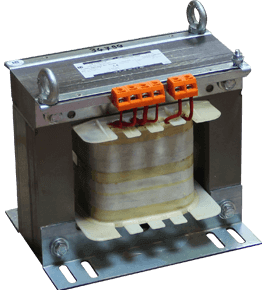 Single phase safety isolating transformers
We offer single-phase or three-phase safety transformers (IEC 61558-2-6):
- Power: from 10 VA
- Secondary voltage less than or equal to 45V
- Frequency: from 50-60 Hz
- Available without cover (IP00), sheltered (IP2X to IP3X) or waterproof (IP5X)
Specifications
efficiency from 94 to 98% depending on power
Small footprint
Low voltage drop, 2 to 6% depending on power.
Low losses
Vacuum impregnation of air
Operating temperatures 35 ° C or 40 ° C according to references
IP00 or IP21 as standard
Textured paint for RAL7035 enclosures as standard
Connections on terminal blocks or bars according to power
Insulation class: I
Heating class: B, F or H according to references
Winding Copper or Aluminum according to references
Environmentally friendly: RoHS and solvent-free varnish
Important note:
Some options you would like to modify the transformer's dimensions and weight. Please contact us.

+ En option:

E359565
Special products, please contact us fore more information.